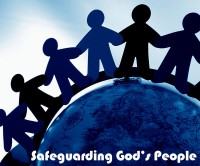 Safeguarding God's Children

Frequently Asked Questions:
 Why are lay ministers and parish volunteers who work with children required to take a Safeguarding training and register for a background check?
We offer Safeguarding training in order to help adults in our parishes remain aware of risks to children in their care, and in order to protect children and adults from abuse and from false allegations of abuse. All people who serve in ministry with children and youth are required to participate in a Safeguarding training every four years, and to renew a background check every four years. The training is offered online and is available to be offered in person.  Volunteers may contact Jill Sallin to learn how to register for a background check.
How can I schedule a "Safeguarding God's Children" training in my parish?
If you prefer not to take the "Safeguarding" classes online, or are part of a group of people who want to take the classes together, contact Jill Sallin to make arrangements.
If I choose to do "Safeguarding God's Children" classes online, which classes must I pass to work with children in The Episcopal Diocese of Montana?
To meet the online requirement for "Safeguarding God's Children," you must successfully complete the following units:
"Meet Sam"
"It Happened to Me"
"Keeping Your Church Safe"
"Your Policies"
Camp Marshall provides additional training for camp staff and volunteers.
Contact Jill Sallin at [email protected] or (406) 442-2230 x100 to receive login information to take an online training.
Do I have to take all of the classes at one time?
No, your username and password will allow you to log into the online training site to complete the training as is convenient for you.
What What does the Episcopal Diocese of Montana's background check involve?
Praesidium performs all background checks for The Episcopal Diocese of Montana, and is contracted to do the following checks on clergy and lay ministers who regularly work with children:
a County and National criminal background check,
a SSN trace to identify the applicant,
a check of the National Sex Offender Registry.
We do not receive information about credit history as part of our check, and only perform a Motor Vehicle History check on individuals who regularly transport children/youth.
Who has access to the information that I provide in applying to minister with children in a parish?
Your volunteer application, reference information, and the results of your background check are available to the Rector or Director of Christian Education in your parish, and is made available to the Bishop's staff upon request. All information we receive is confidential.
How often must I complete a "Safeguarding God's Children" training?
Training must be completed, either in person or online, every four years.  We encourage leaders in ministry settings where staff/volunteers change frequently to revisit the training annually.