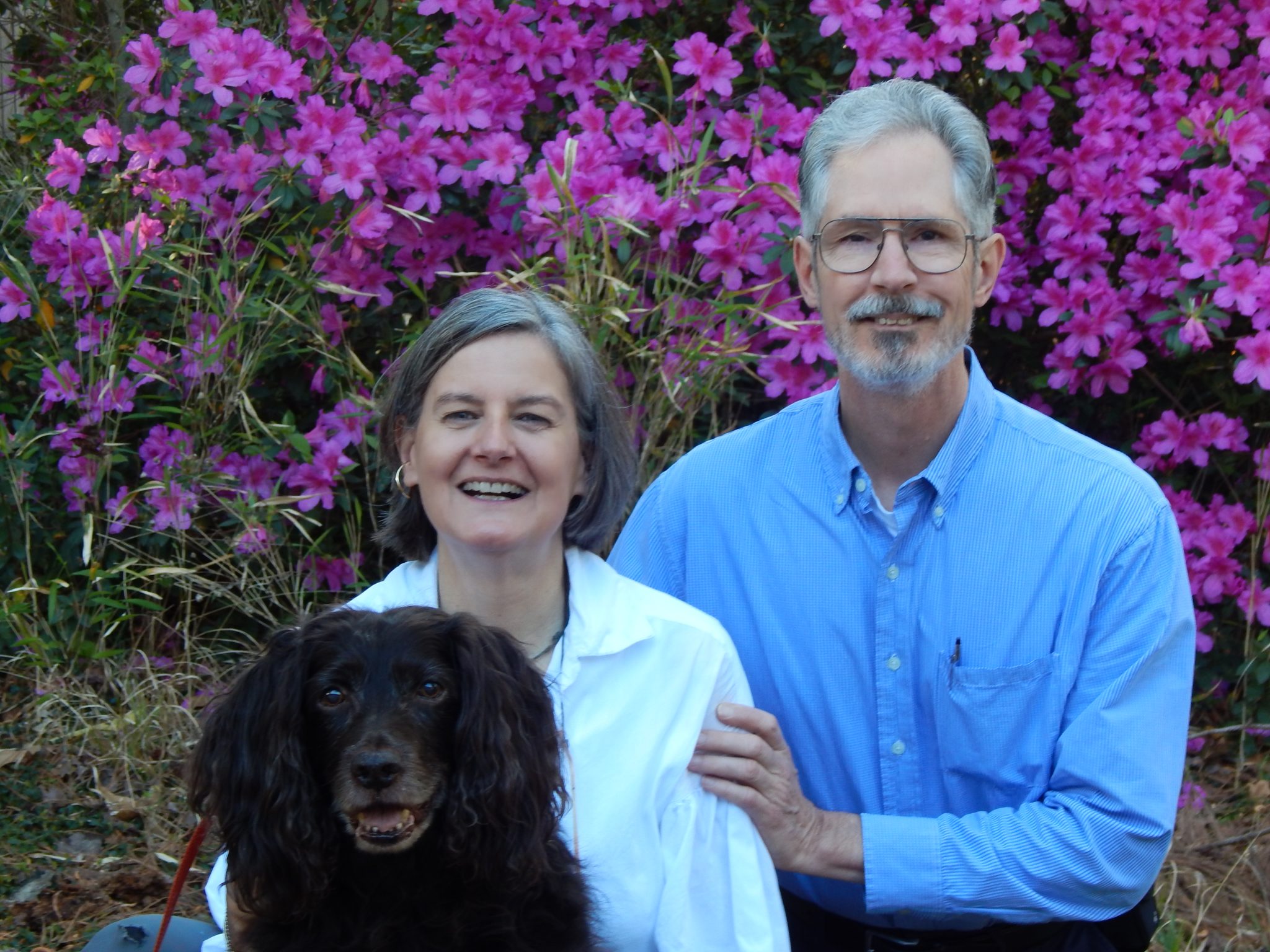 Bishop Elect Marty with her husband Bob and dog, Cal.  They also have a two year old black medium-haired rescue cat named Ruger.
The Rev. Martha E. (Marty) Stebbins has been the rector of St. Timothy's Episcopal Church in Wilson, North Carolina for over nine years.  This parish has continued to grow spiritually and in size and has a below-average age for an Episcopal Church in the United States.  Marty was raised in a military family.  She was baptized at  St. Alban's Episcopal Church in Annandale, Virginia as an infant.  Raised in a multi-denominational and multi-faith extended family, she had ample opportunity to explore her faith.
She inherited the family's deep abiding love for animals, resulting in a menagerie of many things feathered, scaled and furred.
She was confirmed at St. Timothy's Episcopal Church in Raleigh, North Carolina as a college student by Bishop Thomas Fraser.  After undergraduate studies in zoology and engineering Marty went on to graduate from North Carolina State University's College of Veterinary Medicine.  She was offered a research and teaching stipend to continue her studies and received an MPH in epidemiology and a PhD in veterinary bacteriology.  Her career ranged from academia and industry.
During this time, she continued her faith journey, working with the college chaplain at Oklahoma State University when she was on faculty there.  After marrying her husband, Bob Grudier, she relocated back to North Carolina and began to discern a call to the vocational diaconate.  She switched to the priesthood track with Bishop Michael Curry's permission and blessing.  Attending Seminary of the Southwest, she graduated in 2005 with her MDiv and returned to North Carolina to be ordained to the transitional diaconate June 25, 2005 by Bishop Curry.  She became the Cluster Missioner for the Sandhills Cluster of Churches and was ordained to the priesthood on December 28, 2005 by North Carolina's Suffragan Bishop Gary Gloster.
As clergy, Marty has been active in Diocesan affairs, including being the Secretary of the Standing Committee during North Carolina's bishop search after Bishop Curry's election to Presiding Bishop. And she has been active on the Provincial level, serving at the longstanding chaplain for the Province IV's HIV/AIDs Retreat at Kanuga.  She also currently serves on a variety of community boards and groups in her community.
To listen to The Rev. Marty Stebbin's sermons click here.