St. Luke's Episcopal Church Day Camp

119 N 33rd St, Billings, MT 59101
When:  Monday, August 5 -Friday, August 9, 2019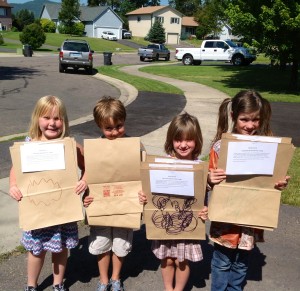 • Campers may be dropped off between 8:30 – 9am, and should be picked up at 3:30 each day.
• Each week of day camp concludes on Friday afternoon, August 9 at 3 pm, with an ice cream social.  Campers will share their experiences and to introduce their counselors.
What:  This year, our day camp theme is "Faith Moves Mountains!" During day camp, we explore and experience God's good gifts through stories, music, outdoor play, arts and crafts, worship, and by serving others.  At day camp, campers may participate in the following activities:  hiking, field games, songs, drumming, arts and crafts, skits and in other games that cultivate creative expression.  Your camper will join in one day of service during the week together.
Where:  Each day, we'll begin and end at St. Luke's Episcopal Church located at 119 N 33rd St, Billings, MT 59101.
Parents of campers will receive a daily schedule outlining other local spots we might visit, including the library, a park, the food bank, and a swimming pool.
Who:  Rising 1st graders – 8th graders
Counselors from Camp Marshall will lead  each day's activities alongside the staff and parishioners of St. Luke's Episcopal Church.  All adults who serve at day camp undergo a criminal background check and safety training before day camp begins.
What to bring:  Day campers should bring:
• a sack lunch (morning and afternoon snacks are provided)
• a water bottle
• a swimsuit and towel
• a light jacket
• a baseball cap / sun hat or sunglasses
• sunscreen
Contact:  Noelle Kent at  (406) 661-3695
How: There is no cost to participate.  Register online here.